About TechMGM
TechMGM is a collaboration of local industry, educational and government entities working together to connect and leverage Montgomery's unique technology related assets. This initiative will maximize the community's diverse technology talent pipeline and promote the city as an emerging and innovative technology hub to enhance the workforce and grow the regional economy.
Montgomery has a comprehensive tech economic development strategy, fueled by the new MGMix Internet Exchange, the City and County, the State of Alabama, Air Force and DoD partners, the RSA Data Center, universities, and the local tech community. Through collaboration and strategic efforts, Montgomery will continue to enhance its technical infrastructure, train and attract technology professionals, connect them with our leading edge technology employers, strengthen and support our DoD missions based here in Montgomery, and create an environment where innovation and entrepreneurship will flourish to solve the wicked problems facing our nation and all individuals in an increasingly technology dependent world.
Want to get involved in TechMGM? Contact us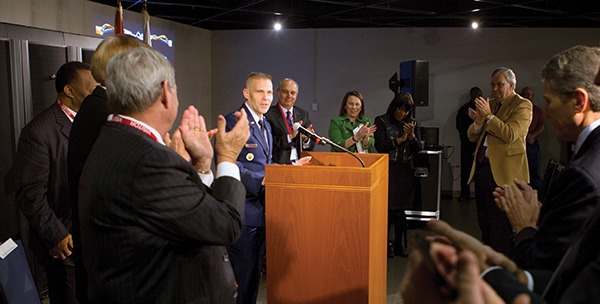 The cornerstone development of Montgomery's Cyber strategy, the Montgomery Internet Exchange, was launched in January of 2015.