Montgomery, Ala. – October 4, 2018 – Today, Montgomery leaders announced a pioneering move for the city's economic development future. With the full partnership of Mayor Todd Strange and County Commission Chairman Elton Dean, the Montgomery Area Chamber of Commerce announced an aggressive TechMGM initiative today to be led by Executive Director Charisse Stokes. In addition the Chamber created a new division focused on innovation, technology development and strategic partnerships and named Lora McClendon Vice President, Strategic Initiatives and Federal Affairs.
TechMGM is a Montgomery Area Chamber of Commerce initiative focused on growing Montgomery's distinct economy by leveraging its local and regional industry and resources, cultural attributes and talent to pursue and promote technology advancements, inclusive growth and enhance access to capital.
The initiative has always focused on supporting the city's diverse talent population to enhance the workforce and grow the regional economy. In recent months, major milestones such as the 100 Gig Montgomery Internet Exchange, smart city and open data programs, a cyber innovation academy, and extensive investments in fiber infrastructure have resulted from the TechMGM initiative. With these new appointments, Montgomery will be poised for transformative growth to strengthen the city's reputation as an innovative hub utilizing cutting edge technologies.
Mayor Todd Strange voiced tremendous optimism about the TechMGM initiative: "In Montgomery the sky is the limit. We have put together the best team, and are giving them the best resources to leverage. If we all put our shoulders to the wheel, there is no limit to what Montgomery can do."
"Montgomery recognizes the opportunities that result from partnerships.  We don't know it all, and that's why we are thrilled to partner with experts to facilitate future growth in Montgomery," said County Commission Chairman Elton Dean.
"This effort will do a tremendous amount for our city. We are here to positively impact our community but also create jobs and a better workforce. Our three immediate focus areas are economic development, workforce development, and community development. We are going to make sure Montgomery is solidified on the map as a wonderful place to live and also an innovative tech community," said Stokes.
To learn more about TechMGM go to www.techmgm.com. To learn more about the Montgomery Area Chamber of Commerce, visit www.montgomerychamber.com.
ABOUT MONTGOMERY
Montgomery, Alabama USA fosters a business-friendly environment and understands that a healthy mix of large and small businesses constitutes the lifeblood of the city and region. A long history of trusted public-private partnership between the city, county, state and local business leadership creates an inviting business ecosystem. Montgomery is built on a dynamic history rooted in revolution as the center of both the Civil War and the Civil Rights Movement. On the forefront of cutting-edge development, Montgomery is attracting new businesses with its open internet exchange and opportunities for business growth, and new residents are coming for the city's work culture, transportation options and quality of life, including a revitalization of unique spaces in historic downtown with new attractions and diverse entertainment options. For more information, visit www.choosemontgomery.com.
###
Media Contacts: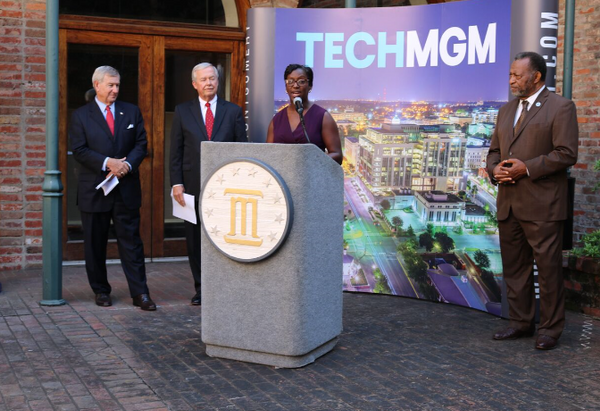 Meg Lewis
Montgomery Area Chamber of Commerce
Mlewis@montgomerychamber.com
334.312.2007